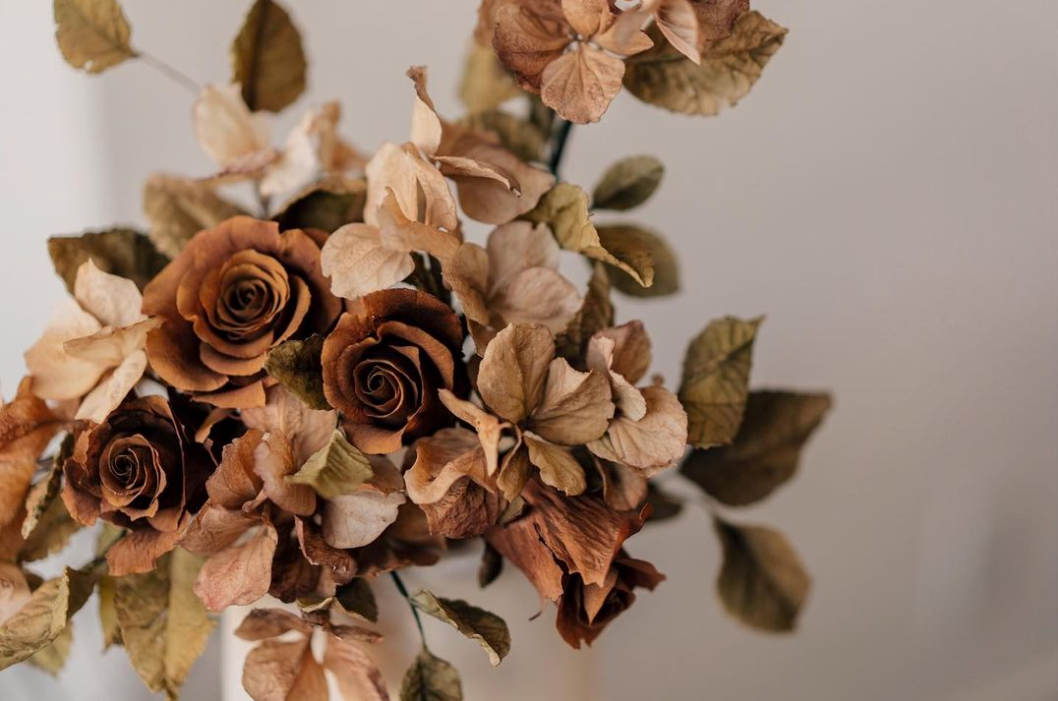 Say No To Fresh Flowers On Your Cake
Fresh flowers? NO please, thanks.
(Images shown in this post are all Sugar Flowers handmade by our team)

We have received countless emails from people telling us they really love the fresh flowers on our cakes, one one hand, we are extremely humbled that you guys think that our handmade SUGAR flowers look like fresh flowers… on the other hand, we have NEVER, and will never put fresh flowers on our cakes, and here's why.
• Flowers generally contain pesticides
No, you do not want to feed your body with pesticides.
We know a ton of people who wraps up the stems which enter the cake, but guys, the petals touching the cake contains pesticides, flowers preservatives and chemicals which are not safe for human consumption as well.
There are flowers which are edible, however they belong to a small set of species which are not very common on wedding cakes.
So yes, the roses, eucalyptus, baby breaths you always use? Full of harmful pesticides, definitely not for your cake. And definitely not safe for your guests to consume a cake full of those. You do not die immediately but those bad chemicals stay in your body.
• Longevity of fresh flowers
Not very long. If you scrap and ignore the idea that it is dangerous to consume, let's bring you to the next point.
Fresh flowers do not last long without the stem being stuck to water. Imagine how it looks when you place your cake out there on display for too long before the cake cutting time, they will start to wither and I promise you it is not the best sight for your cake.

• Cost
Then you ask, why do people still use real flowers on cakes given such risks?
If anyone had joined our classes, they know it takes very long to do the sugar flowers from scratch - making the gum paste, making the flowers, colouring them and ultimately arranging them on the cake take days, sometimes weeks to complete.
It is natural for business owners to want to save cost, time and work on efficiency and hence the convenience of choosing real flowers which are naturally grown and there for them to pick and use.
And now I am sure you ask, why Sugar Flowers? You can only think of all the reasons as oppose to what was mentioned above.
1. No Pesticides
Sugar flowers are made from pure sugar and fully edible ingredients, generally I use them for aesthetic purposes, they taste just like sugar so if you are in need of some sugar rush feel free to consume them! Definitely safe for cakes.
2. Aesthetic/ Color Palette
Ever came across a flower you really like but it is not the season for them to bloom? Well you will never face this with sugar flowers because we hand make them, hence we have the freedom to shape them in any shape and colours we want.
No more getting restricted by the season for the flowers you love. They do take very long hours to execute and make but I always believe aesthetic work and art triumphs over using real flowers to earn quick money.
3. The Best Part
Sugar Flowers do not die. They last forever when you take good care of them, away from heat and humidity, these blooms last years and years to come.
We have an abundance of them in our studio and they form our sugar flower bouquets from time to time. Our brides have also shown us images on how they kept them nice in a bell jar.
4. Cost
Since you get so many advantages of Sugar Flowers over real flowers, you do not expect them to be cheap of course. Sugar Flowers are work of Art. Like any art pieces and projects, they take long arduous hours to make, but you get the best value of it all.
So, the final decision lies with you.