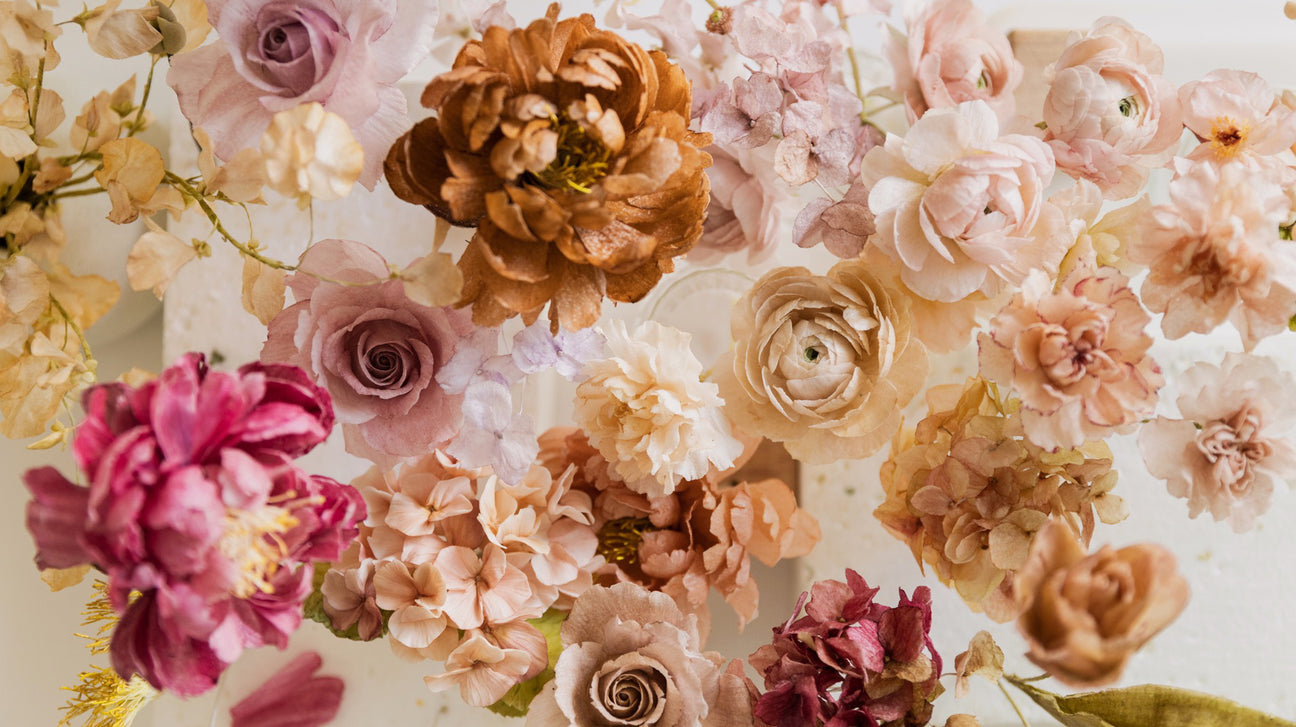 13 Best Online Cake Decorating Classes Taught By Expert Cake Designers
Online classes are a great alternative to attending physical cake decorating classes. They allow you to learn at your own pace and from professionals, even during a pandemic. 
In this article, we feature some of the best online cake decorating classes taught by expert cake designers. Depending on what you are interested in, you may check out our list and get started on your cake decorating journey or to fine-tune your sugar flowers skills today!
1. Winifred Kristé Cake
 Specialises in: Gum paste flowers, wafer paper flowers, cake design
Founded by Winifred, Winifred Kristé Cake is a Singapore-based cake boutique that specialises in creating customised cakes. She offers a variety of online classes, from Gum Paste to Wafer Paper – Sugar Flower Wedding Cakes and Art of Wafer Paper Flowers & Cake Design. The former focuses on gum paste flowers while the latter focuses on creating wafer paper flowers.
Her courses are designed for cake decorators of all levels and offer everything you need to know about these cake decorations. Beyond the basics, you can also expect to learn how to conceptualise a cake design and bring it to life.
Additionally, students who enroll in her online wafer paper course will enjoy access to her private Facebook group where she continues to support her students by sharing insider cake decorating tips, exclusive content & academy member perks and answering questions they might have. 
She also has a YOUTUBE Channel where you can look out for other FREE resources that are extremely comprehensive and might help you kick start your cake decorating and improve on your flower making journey.

One example you want to look out for is her FREE wafer paper maple leaves tutorial that teaches you how to create these delicate sugar foliage. This comprehensive tutorial guides you on how to create wafer paper leaves, and you will also get to learn how to apply a unique multi-colouring technique to make the leaves look more realistic.
2. Eat Cake Be Merry
 Specialises in: Buttercream flowers, cake decorating.
EatCakeBeMerry is founded by Liz Shim, owner and head designer of Eat Cake Be Merry.
Eat Cake Be Merry started with a goal to combine modern, simple, and clean design with delicious cake. Each is customized so that every client can truly have the cake of their dreams. We also believe that taste should never be compromised, so we bake everything from scratch with the freshest and finest ingredients available to us. We hope to provide beautiful cakes for all your merry occasions!

3. Sweet Heather Anne

 Specialises in: Buttercream Piping, Cake decorating, Buttercream Cake Decorating
Sweet Heather Anne is founded by Heather in 2010, and they have been creating extremely beautiful floral wedding cakes for their clients. 

In their online tutorials, we share techniques and processes to help you become a more confident cake designer and sell the work that inspires you. It's my hope that our insights will be valuable to you no matter where you are in your cake journey.
4. Avalon Cake School
 Specialises in: Fondant cake decorating, cake sculpting, cake painting
The online cake decorating classes at Avalon Cake School focuses on a variety of topics including cake sculpting and painting on fondant.
The courses on this site are suitable for beginners to advanced cake decorators. Some of the content on the site is free. However, the majority of the online classes can only be purchased or accessed through a monthly membership.
5. Ashlee Marie
 Specialises in: Fondant cake decorating, buttercream cake decorating
Ashlee Marie was catapulted into fame after her appearances on Food Network. On her site, you can find cake decorating tutorials and tips on how to make show-stopping desserts. 
Most of her online classes feature written instructions accompanied by videos to supplement the text, making them great for visual learners.
6. The Butter Book
 Specialises in: Fondant cake decorating, buttercream cake decorating
The Butter Book is a learning platform that offers a variety of cake decorating courses. This platform was created by pastry chefs who founded the French Pastry School in Chicago.
You can choose to sign up for their courses on basic cake decorating, cake embellishment, or fondant. Apart from cake decorating, the site also offers video tutorials on bread making and pastries.
7. CakeJess
 Specialises in: Chocolate modelling, rice paste flowers
CakeJess is helmed by Jessica MV, an award-winning Vietnamese cake decorator who specialises in creating custom wedding cakes. 
She offers a range of cake decorating courses on topics like chocolate modelling and creating rice paste flowers. These online cake decorating classes are taught by Jessica and feature comprehensive follow-along video tutorials.
8. Don't Tell Charles
 Specialises in: Buttercream cake decorating, isomalt decorations
Founded in 2013 by Thao Armstrong, Don't Tell Charles (DTC) started as a small coffee and dessert shop in Australia. Since then, the brand has grown to become a renowned cake designer known for its concrete buttercream cakes.
DTC offers various online courses that aim to provide students from all over the world with resources to become a successful cake designer. They currently offer classes on buttercream cake decorating techniques and creating isomalt cake decorations.
9. The Wilton School
 Specialises in: Buttercream cake decorating, fondant cake decorating
The Wilton School is a world-renowned cake decorating school known for its "Wilton Method" – a set of cake decorating techniques developed by the school.
Over here, you can access courses taught by Wilton-trained instructors with extensive teaching and cake decorating experience. The online courses at Wilton are taught live; this means that your instructor will provide you with guidance in real-time.
10. Sugar Geek Show
 Specialises in: Buttercream cake decorating, fondant cake decorating
Sugar Geek Show was started by Liz Marek – a cake decorator from Portland, USA in 2015. She offers a broad selection of online classes ranging from basic to advanced cake decorating techniques.
To sign up for her classes, students can subscribe to her membership plans. Becoming a member also allows you to access a members-only forum where students can talk about all things related to cake decorating.
11. Skillshare
 Specialises in: Basic cake decorating
Skillshare is an online learning platform where you can watch video tutorials on a plethora of topics. On this site, you'll find video tutorials on cake decorating techniques taught by experienced instructors.
You're required to sign up for a paid membership before you can access these videos. Fortunately, there's an option to register for a free 7-day trial before you decide to commit to the platform.
12. Craftsy
 Specialises in: Buttercream cake decorating, buttercream cake decorating
Craftsy offers online classes for creatives on topics like cake decorating, sewing, and photography. Their cake decorating courses are suitable for students with varying levels of experience and are taught by professionals. 
To enrol in their courses, you'll need to subscribe to their paid membership plan.
13. Brit + Co
 Specialises in: Buttercream cake decorating, fondant cake decorating
Brit + Co is a website that features video tutorials related to business, food, design, and art. On the site, you can find a small collection of cake decorating classes that focus on basic techniques like frosting and decorating a cake with fondant.
You can make a one-time purchase to enrol in their cake decorating classes. Alternatively, you can also subscribe to their all-access pass for access to all the courses available on their site.
Sign Up for an Online Cake Decorating Class
Online cake decorating classes provide a host of benefits. They make learning from expert cake designers accessible and allow you to enjoy flexibility in your learning. 
Interested in elevating your cake decorating skills? Sign up for an online class and get started today!