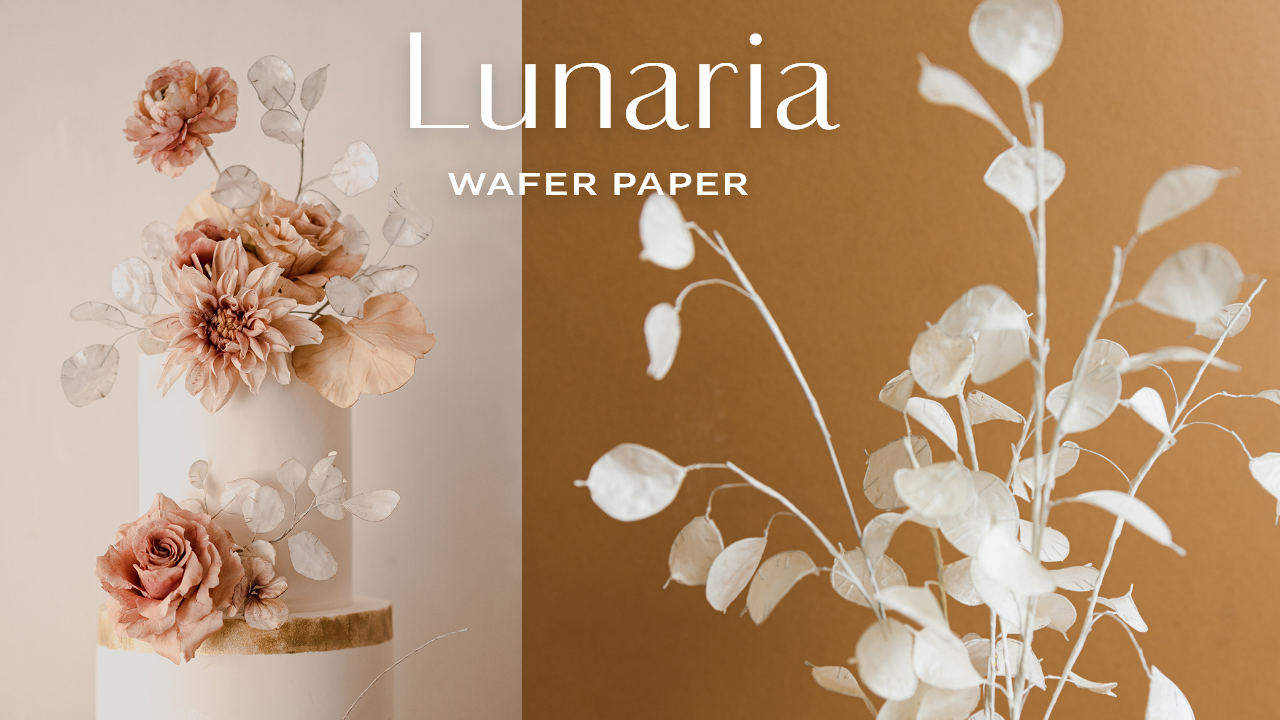 How to make Wafer Paper Lunaria (Silver Dollar Plant)
These Wafer Paper Lunaria leaves are perfect for Beginners who want to learn how to make an impressive cake design, with very little effort. Yes you heard me right! It doesn't take very long to create a minimalist elegant cake design with these guys. 
I will also show you how you can tie them in 2 different ways for your cake designs.
In this tutorial, you will learn how to paint, shape and design wafer paper lunaria leaves. You will also be taught what type of liquid you need to use for working with wafer paper. This way, you will know how to adjust accordingly to your needs and your working environment.
You will also see some cake designs that Winifred has done, 1 in a minimalist style, and the other a more extensive floral look. These Wafer Paper Lunarias can be used in both looks.
Now, let's dive in! Suggested template download can be found below. 
Wafer Paper Thickness: https://winifredkristecake.com/blogs/articles/wafer-paper-fundamentals-thickness
Materials you need for this tutorial:
- Wafer Paper (Amazon O Grade Oasis Supply)
- Color Palette
- Wafer Paper Conditioner (not sure what to use? check out this to know: https://winifredkristecake.com/blogs/articles/how-to-condition-wafer-paper)
- Brushes for painting wafer paper
- Craft Scissors
- Needle Nose Pliers
- 28g or 30g (for the leaves)
- 20g white floral wire (for the stem)
- Wafer Paper Glue (https://www.youtube.com/watch?v=lspLn7iKH6M)
- Dusting brushes
- Floral Tape
- Silver Edible Dust 
HOW TO MAKE WAFER PAPER LUNARIA (Silver Dollar Plant)
1. Trim & bend your wire to your desired size & shape of the lunaria leaf  
2. Add some wafer paper glue along the skeleton of your wire and stick it on a piece of wafer paper 
3. Trim some shorter wires & attach them onto your leaf using wafer paper glue
4. Mix some edible silver dust with vodka and paint it over your leaf to soften and to bend it.
5. Repeat for other lunaria leaves, make them all in different shapes and sizes and let them dry before you attach them into a branch or vine for cake decorating.
WHAT IS WAFER PAPER?
Wafer paper is made up of a combination of potato starch, water, and vegetable oil. Most wafer papers are flavourless or have a neutral taste.
This lack of flavour is an advantage as it doesn't affect the taste of the cake that the wafer paper is applied onto. Flowers made from Wafer Paper can also last forever, so you never have to worry about flowers withering ever again.
Read everything you need to know about Wafer Paper: https://winifredkristecake.com/blogs/articles/wafer-paper-flowers
HOW TO STORE WAFER PAPER?
First we have to understand the condition it will stay up well, or the reason why such environment is good for storing wafer paper flowers. Generally, wafer paper flowers and sugar flowers will soften when there is too much moisture in the air. So basically to store it well so they last forever after you have made your sugar flowers or wafer paper flowers, you will need to store it in a cool and dry environment.
Watch the full explanation and demonstration on how to store your sugar flowers here: 

Need a professional tutorial in getting you started with wafer paper flowers? Thinking how you can make realistic looking sugar flowers that are light weight, do not break and doesn't require overnight drying time? 
1000s of people have signed up for Winifred's FREE Cosmos Workshop and benefitted from it.