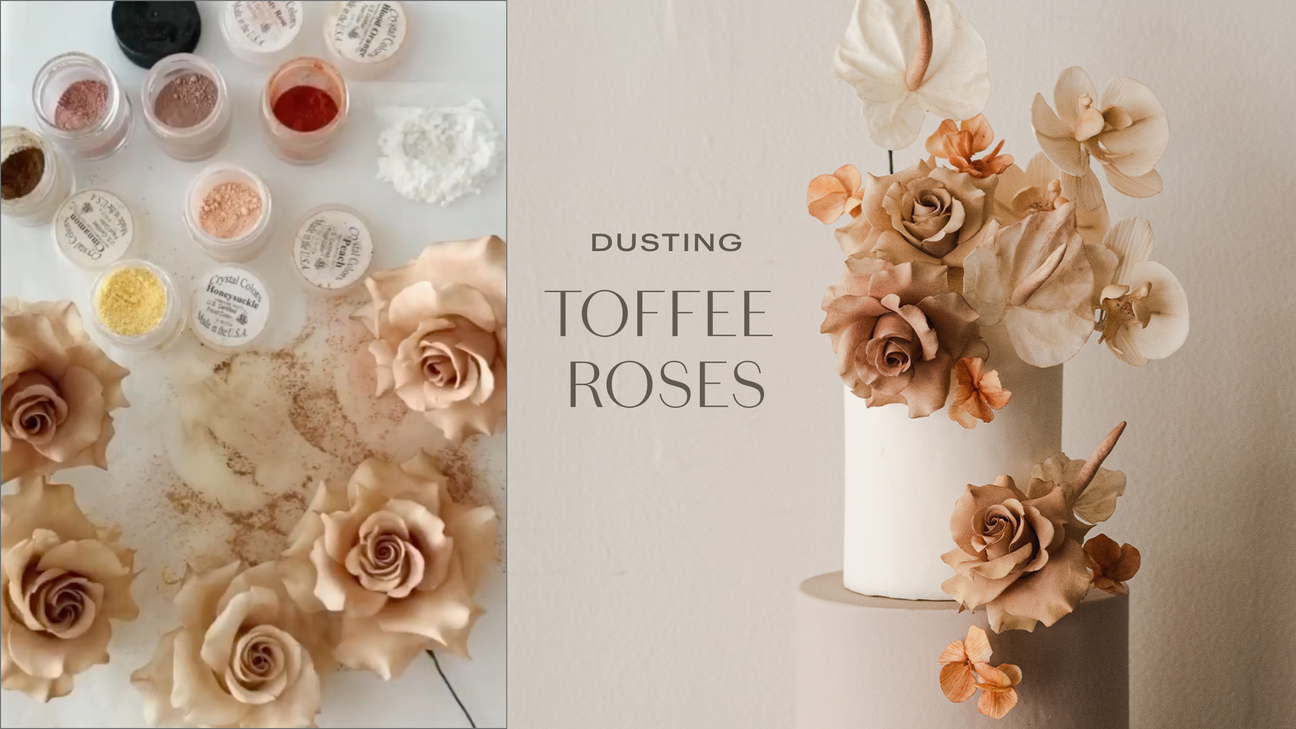 How To Create Realistic Sugar Flowers
Making flowers look realistic seems like a mystery to many but it doesn't have to be! Read on to find out more on how you can make your sugar flowers look more realistic.
Hi there! If you are new here, my name is Winifred and I am the founder & cake artist of Winifred Kristé Cake. I have been making cakes and sugar flowers for about 12 years now and I spend most of my time now teaching- both online and in-person in my studio in Singapore. :)
All my students come to learn from me for this specifically this reason, to learn how to achieve realistic looking flowers and cake designs, so I thought I could share some of my experience with you guys.
I have been making sugar flowers for almost a decade now and I am sharing some top tips I that swear by. Here are some cakes and sugar flowers I have made over the years:
You may see more here: https://winifredkristecake.com/pages/cake-commissions
------
So these are some top 5 personal tips I have for you in making your sugar flowers look realistic.
Tip #1: Always reference a real flower when making sugar flowers
This is a big one for me. I always learn from the best - NATURE. I look at real flowers and observe the movement of petals, the textures on different elements like leaves and berries, and I also look out for the colours each element has. All these combined observation informs the way I make my sugar flowers. 
Once you get used to making a certain flower (i.e. Gum paste Rose), then you will be able to put your own twist to it. For example, these are the many different types of roses I have made:
Tip #2: Understand Colour Theory
Oh this is absolutely my favourite topics to talk about when making sugar flowers look realistic, and it is undeniably one of the most important factors that affects the final look of the flower.
Colours play a big part! They convey a message, a tone & a mood. Imagine a sugar rose with no colours/ clashing colours, as compared to a rose with beautifully cohesive colours. I am sure you know which one you will be attracted to. ;)
Understanding Colour theory, especially colour schemes allows us to know how to mix colours to get a certain shade we would like to achieve & allows us to create a cohesively sensible design. 
I have done a mini colour theory workshop here on Instagram LIVE to go through the basic understanding of Colour Theory and also some examples as to how you may apply them onto your work:
I have also done up a playlist of videos on our YouTube Channel, where I dust my gum paste flowers to give them the extra touch they needed to look more realistic. In this playlist you will see how I tackle different flowers and the colors I use for each flower. 
Tip #3: Understand the medium you are working with (Gum paste/ Wafer Paper/ Cold Porcelain Clay)
Understanding your medium plays a huge part. Each medium mentioned here works a little differently in different environments- so in order to have full control over how confidently you work with these mediums, you need to understand how they behave.
Let's take gumpaste for example- if you do not know what is gumpaste, you may check out this blogpost:
Gumpaste is very sensitive to the humidity level in the environment- if the environment is humid, it will take longer to dry up and to hold its shape, and if the environment is less humid, it will dry faster. 
The type of gumpaste that you use matters too. Different brands of gumpaste work differently as well. You need to familiarise yourself with the medium before you can create realistic looking flowers.
This brings me to my next tip.
Tip #4: Just start today. Practice makes PROGRESS (Not perfect) 
The more you do, the more data points you collect, the better you will get each time. If you do not start, you will always stay at the same point and you will never be able to advance yourself.

This is how my gumpaste rose looks like in 2013.
And these are how my gumpaste roses look today (2022):
and you can also see from the many roses photos above. Having the right techniques and the patience to practise, to allow yourself to make mistakes and learn from your mistakes, so you get better every time you make it- all these are important in helping you with progress. 
Remember, we are always looking out for progress, not perfection. 
Tip #5: Don't be afraid to get help. Learn from an Expert
When you have tried all of the above and still not getting the look of the flowers you are looking for, then maybe you just need a little helping hand. Learn from people who have a wealth of experience and knowledge to guide you in your learning journey. 
And I quote this from our Online School Student: "Having the course available to me is almost like having the homework done for me." - The exact same reason why we read books written by well experienced people to grow.
You can also see how our students' understanding of colours and application of the techniques learnt on flowers and cakes have improved drastically after they have implemented what they learn from our Online School.
We have a YouTube channel with some tutorials that might help you get started ;) If you are looking at taking your skills a few notches higher, we also have online classes for both gum paste and wafer paper- 2 of my current favorite mediums to work with to create realistic looking flowers. 
If you need a little help in your learning journey, don't be afraid to reach out, you may also find our learning school here, in there you will also see the beautiful results of our students who have taken the courses:
Hope this has been helpful, if you have any questions, just drop me an email at info@winifredkristecake.com and I will get back :)
Love & light,
Winifred